Revolutionizing Architecture and Energy Efficiency with Advanced Spray Foam Roofing Solutions
At Orezona Building & Roofing Co. Inc., we offer state-of-the-art spray foam roofing solutions to enhance energy efficiency, structural strength, and durability for both residential and commercial buildings.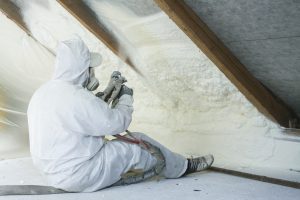 Benefits of Sprayed Foam Roofs for Your Property
Spray foam roofing is gaining popularity as a viable roofing option due to its numerous advantages, including:
Energy Efficiency: Spray foam roofs have excellent insulating properties, resulting in reduced heating and cooling costs.
Seamless: This roofing system offers a seamless finish, minimizing potential leakage points and improving overall weather resistance.
Waterproof: Sprayed foam roofs act as a waterproof barrier, protecting your property from water infiltration and damage.
Durability: Polyurethane foam has proven longevity and durability, ensuring that your roof remains strong for years to come.
Low Maintenance: Due to their few seams and strong material composition, sprayed foam roofs require minimal maintenance.
Learn More About Our Spray Foam Roofing Process
Our experienced and skilled team goes through a thorough process to install your sprayed foam roof, which consists of:
Assessment: Our expert technicians carefully examine your existing roofing system and recommend the necessary adjustments for the best foam roof application.
Surface Preparation: The installation surface is thoroughly cleaned and prepared to ensure that the foam adheres properly.
Foam Application: We apply the spray polyurethane foam uniformly across the roof surface, ensuring full coverage and adequate thickness to meet industry standards.
Protective Coating: A durable protective coating is applied to the foam's surface, increasing the roof's lifespan and resistance to environmental conditions.
Inspection and Quality Assurance: Our team conducts a thorough inspection of the finished roof to ensure that it meets the highest quality and safety standards.
Contact Us Today for Exceptional Roofing Services and Solutions
Upgrade to a more energy-efficient and durable roofing system with our spray foam roofing solutions. Contact Orezona Building & Roofing Co. Inc. at (541) 981-2190 or email orezonabc@comcast.net to schedule a consultation or learn more about our services.